Let's talk Cities of Learning Platform!
May 15, 2020
Eastern Cape Region of Learning, Good practice, Tilburg City of Learning, Tips, Vilnius City of Learning
0 comments
Can you spot the Eastern Cape Region of Learning on the map? Our network partner from South Africa already have a number of learning opportunities offered by young people, organisations and other learning providers! On 29th of April the managers of the platform in the region invited local organisations and educators and international partners from Lithuania and Netherlands for an online consultation and presentation about Cities and Regions of Learning. The open consultation was delivered within the Digital Generation Youth project.
Enjoy watching the video recording of the call and learn about:
The Eastern Cape Region of Learning and the developments of this platform (from 0:17)

Example how you can use City of Learning platform for

a face-to-face study visit

(from 15:47)

Open digital badges

and how they connect with City platform for better visibility and recognition of skills (from 18:59)

Example of Breda City of Learning (Netherlands) (from 29:01)

Example of

bringing career guidance online in Vilnius City of Learning

(from 31:20)

The topic of accreditation and recognition on the platform (from 34:14)

Instructions how to register on the platform (from 36:21)

Example of Tilburg City of Learning supporting community on the

topic of COVID-19

  (from 39:17)

Vilnius City of Learning sharing their examples how organisations redesign their activities during the lockdown (

Scouting at home,

"

How to survive at home for teenagers

" – created by youth) (41:34)

Further questions and closing remarks (from 45:32)
The Ready4Life manager Henry Uithaler, emphasized the different benefits of Cities and Regions of Learning platform for different players. 
For young people the benefits are: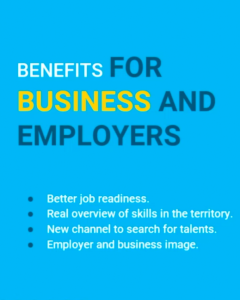 For Learning providers the benefits are: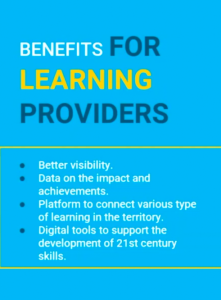 For Business  the benefits are: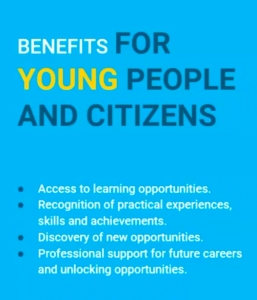 He also explained that during the COVID-19 pandemic across the world, they noticed the importance of online learning and the opportunities Cities of Learning platform created. As he explains, it is a perfect way for the whole city to get involved in promoting learning opportunities. This is not only for young people, but also adults and covers the life-long learning competences.
Nerijus Kriauciunas, co-designer of Vilnius City of Learning and the CEO of Badgecraft shared the ways how badges can be earned by completing activities on the platform. Usually the badge requires a task to do – it could be a learning reflection or making a photo and can be reviewed by the learning provider or learners themselves. In this way, when people seek for a job in the future, they already have an online portfolio of skills and competences supported with evidence. What is more, badges earned on a platform can be easily shared across social media or as a link added to a CV. 
Sandra Van de Kraak, the social worker and innovator from Breakthrough shared a simple yet very useful example how Cities of Learning platform was used for an international study visit. It is a perfect blended learning activity, combining online and offline activities and assuring the recognition of participants' achievements. What they did is that they transformed the visits and workshops they did in various organisations, into activities online by using the presentations as the content. It turned out to be as a interactive summary of what happened for the participants as well as an open resource for future "virtual" visitors in these organisations of Port Elisabeth.
Would you like to join the growing global network of Cities of Learning?
You can:
Create and initiate learning activities on the

global.cityoflearning.eu

  

Promote Cities of Learning in your city or region and establish it! Contact us for more information by email: info@badgecraft.eu and read more in our

Starter Kit

Participate in various activities, learn and earn badges. Choose your city and explore opportunities here: citiesoflearning.eu
This open consultation was delivered within the Digital Generation Youth project that aims to transfer methodologies of youth digital literacy education. This project is implemented with the support of Erasmus+ co-funding