Creating strategies for 21st century skills development
April 30, 2023
Blackpool City of Learning, Breda City of Learning, Cities of Learning Network, Tilburg City of Learning, Vilnius City of Learning
0 comments
The 21st century skills partnership has successfully created city learning strategies that focus on developing crucial skills for young people. This output is a key step towards achieving the project's objectives.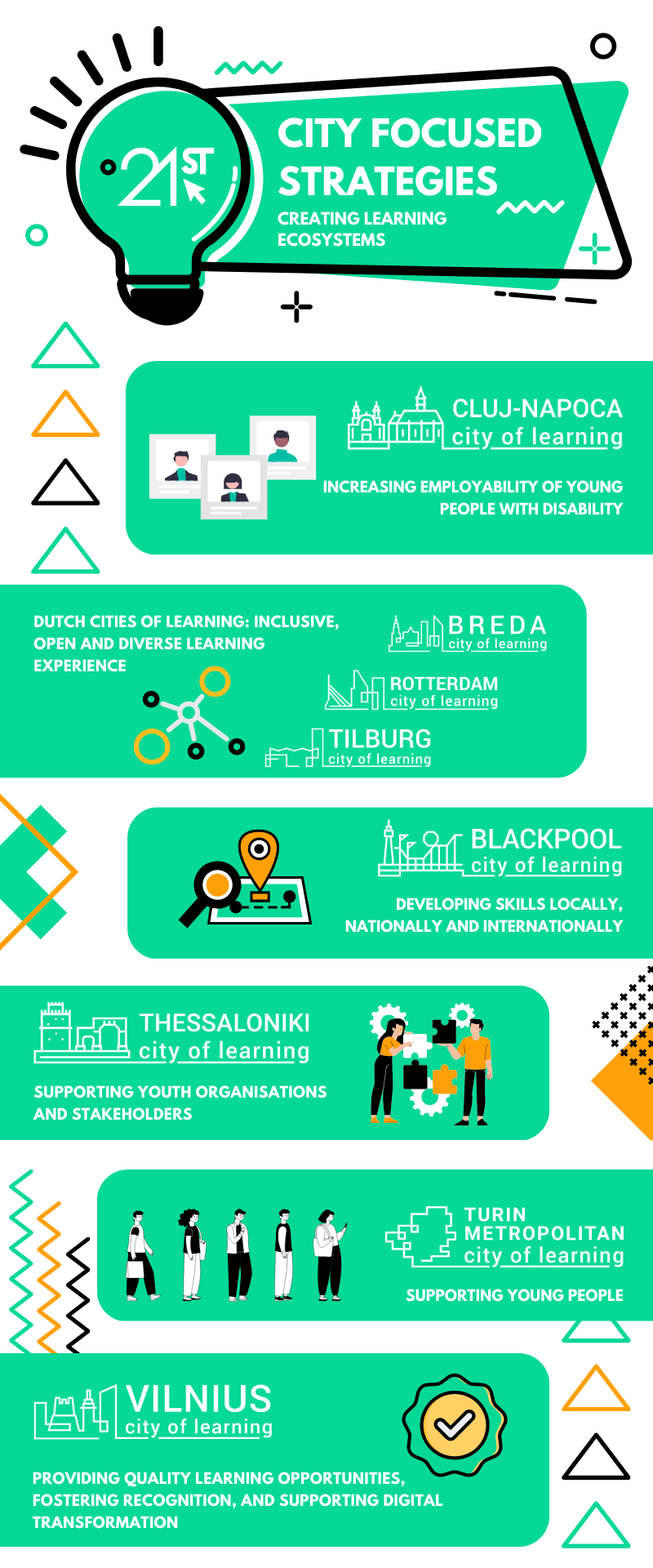 Process
The strategies consisted of four specific steps and sub-outputs to achieve their goals. The first step involved analyzing the city's strategic documents linked to youth work, education, and employment, identifying existing opportunities and gaps. The second step focused on mapping existing educational opportunities for young people to develop 21st-century skills. The third step connected youth work and education providers to offer these opportunities through the Cities of Learning platform. The final step developed communication campaigns to promote and expand the network of the City of Learning and opportunities for young people.
Innovation
This innovative aspect of the project is focused on the lack of strategic youth work focused on developing 21st century skills that are inclusive for all. Despite the need for these skills identified by international research and European policy documents, municipalities and organizations lack the tools and knowledge to connect young people to existing opportunities. However, Dutch and Lithuanian partners have initiated the City of Learning initiative and are sharing their experiences with other partners. All partners are creating new educational content and supporting local organizations in doing the same.
Targets
The target groups for this initiative include young people, youth workers, managers of projects / programs / organizations, and local youth policy stakeholders (which differ in each partner country).
Methodology
The methodology used to create these strategies is transferable to other cities or locations looking to establish a City of Learning. Although the 21st century skills development content is highly context-based, it can be transferable to similar locations in the same country. The project used a theory of change method to create their strategies.
Partners
We invite you to contact our partners which are responsible for creating and implementing these innovative strategies focusing on 21st century skills:
These partners have valuable experience in developing educational content and promoting opportunities for young people. They would be more than happy to share their expertise and insights with you. Don't hesitate to reach out to them and learn more about their work and how they can support your own initiatives.
Disclaimer: The European Commission's support for the production of this publication does not constitute an endorsement of the contents, which reflect the views only of the authors, and the Commission cannot be held responsible for any use which may be made of the information contained therein.