The development of the entrepreneurial capacity of European citizens and organisations is one of the key policy objectives for the EU and the Member States. The European Commission identifies entrepreneurship as one of the 8 key competencies for lifelong learning necessary for personal fulfilment, a healthy and sustainable lifestyle, employability, active citizenship and social inclusion:
Diverse European frameworks are being developed: the European Entrepreneurship Competence Framework (EntreComp), the European Digital Competence Framework (DigComp). These frameworks are linked to the European Qualifications Framework (EQF). Based on the framework, Entrecomp is several other frameworks developed like Entrepreneurial Skillspass and Pitchworthy Entrepreneurial Skills Framework.
Europass and related networks like softskills4.eu, ESCO framework (European Skills/Competences, Qualifications and Occupations) explores additional possibilities to include Open Badges opportunities. Europass will integrate Open Badges based on the EQF. In addition, the ESCO framework and NQF are based on LifeLong Learning and key competencies. ESCO includes the basic or transversal competencies. Entrepreneurial skills are part of transversal competencies.
The project "Digital technology for pathways to entrepreneurial skills" is based on competencies, qualification and endorsement frameworks, and partners will connect existing entrepreneurial adult education programmes for disadvantaged adults with fewer opportunities. They will use entrepreneurial frameworks to recognise, endorse, and acknowledge prior learning, on-the-job learning and learning in the educational programmes.
Project partners are civic-minded and socially aware of the talent of their target groups who are seeing and exploiting opportunities over and over again. Yet, very often, those adults are undermined and unrecognised by others in society who have status and resources. The consortium wants to support these enterprising adults in developing and recognising their entrepreneurial skills further and increasing their successes. Citizens with entrepreneurial skills and attitudes are needed more than ever for rebuilding the economy impacted by Covid-19.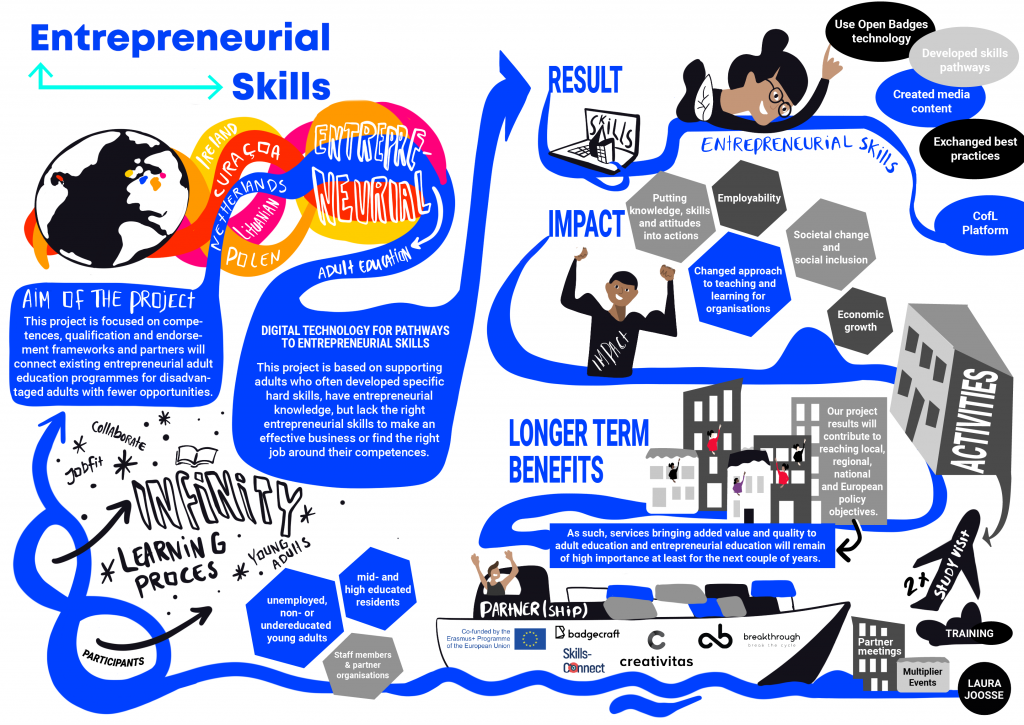 Target groups
unemployed, non- or undereducated young adults, adults who not yet recognise their prior learning, have an entrepreneurial attitude and need better guidance to become entrepreneurs;

refugees who are mid- and high educated residents and newcomers, but they lack the right certificates to enter the labour market;

staff members of adult education organisations.
Aims and objectives
To develop the capacity of partner organisations to use Open Badges technology to assess, validate and recognise entrepreneurial skills and attitudes of adult learners;

To develop endorsement schemes for adult education programmes, especially for adult learners with fewer opportunities;

To create new adult learning opportunities by utilising and developing digital technology solutions available on the Cities of Learning platform;

To promote new adult learning opportunities in participating countries and at the European level.
Partners: Breakthrough (leading partner, NL), Youtopolis (RO), Badgecraft Ireland, Skills-Connect (NL) and Creativitas (LT).
The project is funded by the European Union through the ERASMUS+ programme. Disclaimer: The European Commission's support for the production of materials below does not constitute an endorsement of the contents, which reflect the views only of the authors, and the Commission cannot be held responsible for any use which may be made of the information contained therein.